The Skillcraft team is adept at discovering ways to push the limits of our machinery while maintaining high-quality standards.
Recently, the team received a request to machine a large 36″ diameter aluminum plate. On paper, this job "exceeded" the capacity of our machines. However, we didn't let this deter us. Skillcraft believes that it's not the machines that define a great company, but the people who operate them.
To complete this project, we turned to Glen Burney, a long-time employee and graduate from Skillcraft's apprenticeship program.
After the outline of the shape was cut on a waterjet, Glen, with the support of the manufacturing team, expertly fixtured the oversized piece on a Fryer MB-14 Bedmill. Despite the machine's 40″ x 20″ capacity, the team found a way to fixture this oversized 36″ diameter aluminum plate through multiple machining steps while maintaining tight tolerances over long distances. They don't teach this in school. Using Mastercam, we drilled, countersunk, and tapped over 100 holes of varying requirements. We then machined multiple 2″ wide grooves around the plate's perimeter.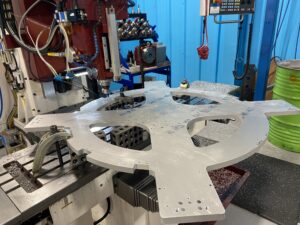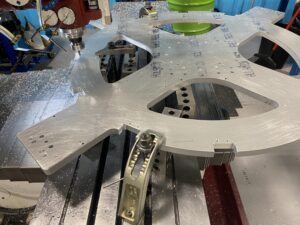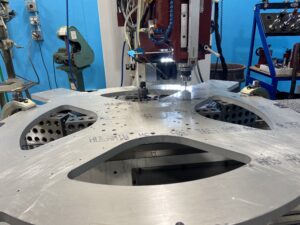 The team at Skillcraft thrives on the unique challenges encountered in low-volume manufacturing.
On this job, Glen enjoyed the challenge getting the job done with the available tools even if it required creative solutions to push the limits. He demonstrated the value of the right mindset and right skillset. Thanks to the expertise of people like Glen, Skillcraft gets the job done.